Hero slideshow Items
Early Season at Silver Star: Powder Hound in Peace
A serene, snow-draped mountain landscape, untouched tracks down gentle slopes, and that invigorating first breath of crisp alpine air as you step out of your cozy cabin. Welcome to early season at Silver Star.
With Nordic skiing expected to open at Sovereign Lake Nordic Club in early November and SilverStar Mountain Resort mid-month with downhill skiing and snowboarding shortly behind it, visiting us before December's holiday rush has its unique set of perks. If you're wondering why you should head for the mountains sooner rather than later, here are some tantalizing reasons. 
1. Snow, Snow & More Snow
Featherlight. Bottomless. Consistent. All-natural. We get an annual average of 7 metres (23 feet), with plenty of it falling in early season. Our prime location in the Shuswap Highland of the Monashee Mountains puts us in the trajectory of storms that come in from the Pacific Ocean and barrel over British Columbia's 10 mountain ranges. As winter storms travel inland toward the Okanagan, they are met with our microclimate, creating effortless, fluffy powder and "snow ghosts"—characterful trees covered in a thick blanket of snow that hunches them over like a withered old man.  
Sovereign Lake Nordic Ski Club kicks off the season on November 3, offering a variety of courses, clinics, and events. SilverStar Mountain Resort official opening day for downhill operations this season is November 30, or earlier based on mother nature.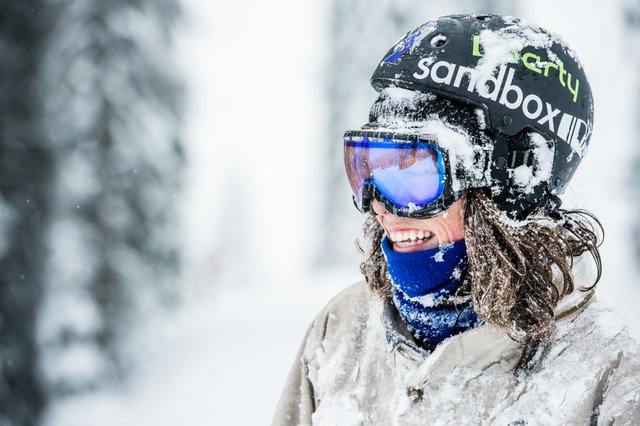 2. Enjoy the Slopes—Stress Free
An early season visit means fewer footprints (and ski tracks) in the snow. The tracks and trails are even more enjoyable when you have them mostly to yourself. Plus, you'll get first dibs on Canada's longest continuous groomed network of cross-country trails and sneaky early season powder days on the slopes to get your legs warmed up for the winter ahead. 
3. Cool Weather Activities & Cozy Nights
Sure, downhill and cross-country skiing are winter favourites. But early season offers other charms – think cozy fireside evenings, leisurely walks amidst frosted trees, and warm cocoa after a day's adventure. As the snow flies and temperatures drop, the forest trails become a haven for fat biking and snowshoeing adventures. Plus, Brewers Pond ice rink and Tube Town open their doors (weather permitting), adding more fun-filled winter activities to enjoy during the day or under the twinkling lights. 
After a day of outdoor adventure, spend some time strolling the boardwalks of our colourful Klondike-inspired village, which is dotted with locally owned shops and eateries. Browse independent boutiques for souvenirs and winter gear—plus meet friendly locals who can give you insider knowledge on where to go and what to do. Warm up with a hearty meal inspired by Okanagan ingredients or enjoy BC wines and craft beer at local eateries, restaurants and bars. Satiate your appetite with Dutch-Indonesian cuisine, authentic Italian, Indian fusion, West Coast flavours, and plenty of grab-and-go options.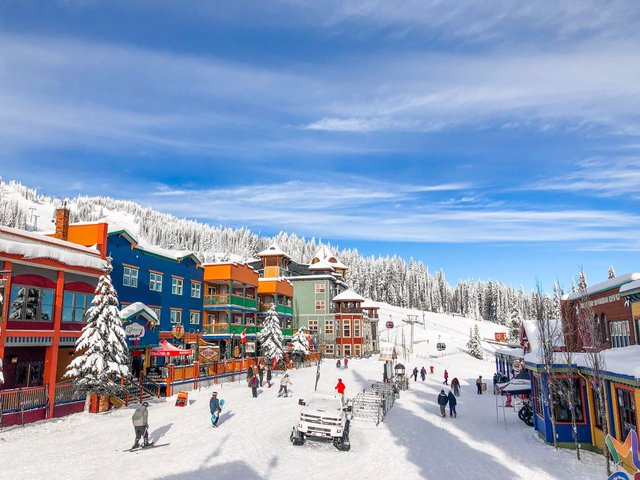 4. Have Your Pick of Ski-in/Ski-Out Accommodation
It's a win-win: savour the beauty of Silver Star and discover a cozy accommodation nestled in the mountains. Visit outside of the peak season (which typically runs from the Christmas holidays to the end of February) and have your pick of spacious vacation properties, chalets, and hotel accomodations—most of which are ski-in, ski-out. Stay a little longer or visit mid-week to take advantage of savings. Right now, you can save up to 25% on winter bookings with rooms from $169 per night. 
5. Recharge,  Reset, and Elevate
While we do love to make tracks and clock vertical, winter is also a great time to focus inward for personal reflection and self-care. Whether it be nestling by the fire, soaking in your hot tub, or enjoying a soothing treatment at our full-service Aveda Day Spa, Elevate, you'll find plenty of ways to rejuvenate. If you're in town mid-November, check out the upcoming Treeline Retreat, November 17-19, hosted by Bush Babes & Bros. The wellness festival offers plenty of opportunities to reset, recharge, set new seasonal goals, and elevate yourself to new heights. Programming includes healthy gourmet meals, yoga classes, entertainment, and heart-felt connections with like-minded folks. 
6. Easy Access: Fly Into Kelowna
Getting to our mid-mountain village is even more convenient. Located just one hour away, Kelowna International Airport (YLW) welcomes a flurry of new flights throughout the winter season, with lift offered daily through the winter from cities including Vancouver, Nanaimo, Seattle, Calgary, Edmonton, Toronto, and Montreal. Arrive at the airport and rent a car or book an airport transfer.  Learn more about getting here. 
A visit to Silver Star in the early season offers a magical blend of peace, adventure, and value. Whether you're a powder hound, a Nordic enthusiast, or someone looking for a snowy escape, our community awaits with open arms and pristine slopes. So, gear up and mark your calendar, because the slopes are calling.